Ormus Minerals Ormus Rich Grey Celtic Sea Salt from France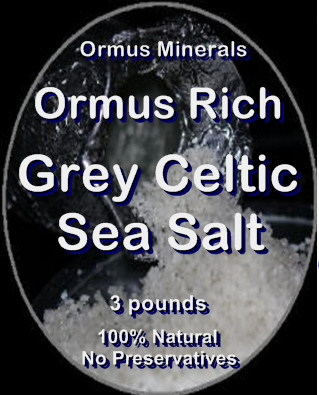 Top Sea Salts for
Ormus Minerals

Dead Sea Salt
Great Salt Lake
Sea Salt

Pink Himalayan
Sea Salt

Korean Sea Salt

Grey Sea Salt

Red Sea Salt
Ormus Rich Grey Celtic Sea Salt from France

Natural Minerals Sea Salts


Grey Sea Salt
adds incredible
flavor to your
entrees.

Natural minerals are essential nutrients for all living organisms.
Grey Sea Salt from France contains higher levels of natural minerals (Calcium, Magnesium, Potassium, etc) compared to imported salts.

Calcium

is essential for healthy, strong bones and teeth and adequate consumption is crucial to protect against osteoporosis.

Magnesium

is an often overlooked mineral and close to 90% of us don't get enough of it - if you don't have enough of it in your diet, you may experience symptoms such as appetite loss, lack of energy, headaches, and even depression. It keeps the heart healthy, and aids in the absorption of other vital nutrients.

Potassium

is central to a healthy heart, and it's important to have a healthy amount of potassium in the diet - particularly if you exercise.

Natural sea salt contains four times the mineral content of any other salt including Himalayan salt (which is second best). Natural Sea salt is much fresher and more "living" than rock salts that come out of the Earth. A pinch or two of Natural Sea salt to a liter (quart) of drinking water can do wonders to increase your hydration.

Grey Sea Salt - Gourmet Food

Add incredible flavor to your entrées by seasoning with organic certified Grey Sea Salt. This salt is favored by the top chefs in France and all around the world. Available in fine or coarse grain to suite your culinary needs.

Grey Sea Salt is formed as the sea water flows into the Guerande marshes, in France, during high tides. It is hand-harvested by salt workers, using skills and methods that are over a thousand years old.

The salt obtains its natural grey coloring from the salt crystallizing on clay. Our grey salt is 100% natural and carries the 'Nature & Progrès' organic certification label from France ( This association is the leading organic farming organisation in Europe).
Natural Bath Salts
Celtic Grey Sea Salt

Natural
Bath Salts

INGREDIENTS: Celtic Grey Sea Salt

SKU NUMBER

COST

INFO

BUY NOW

OM-089-GSS-003
3 pounds

$20.00

View
Details

OM-089-GSS-010
10 pounds

$60.00

View
Details
Mineral Rich Ormus Salts Combinations
Do you want to make your own Ormus Minerals?
We have searched for salt from around the world and brought together a combination of salt that will give you some very rich Ormus minerals with the wet method precipitate.
Available Now!
Grey Sea Salt from France